Superheroes. We all want to be one. I mean, who doesn't want to have a superpower like invisibility or incredible strength? The good news is, this summer we can all be Reading Superheroes. Just 12 short hours of reading scores kids of all ages awesome prizes and keeps their brain powers fired up to go back to school in the fall.
Super Events this Week
Here are a few of the fun events happening this week for school-age kids.  For more information, take a look at the complete schedule of events.  Bonus:  Going to Readapalooza will power up your time tracker by 30 minutes!
Note:  Groups are welcome at all of the events listed below.  If you are bringing a group of 10 or more to Readapalooza, a quick phone call to Kids Library staff a week or more in advance at 580-4565 will help us make sure we have enough materials for everyone.
Tuesday, June 2
Readapalooza: The Adventures of Beanboy
10-11 a.m. | Marvin Auditorium 101C | Ages 6-12
Thursday, June 4
Readapalooza:  From the Mixed-Up Files of Mrs. Basil E. Frankwiler
10-11 a.m. | Marvin Auditorium 101C | Ages 6-12

Zoo Animals Live!
4-4:45 p.m. | Marvin Auditorium 101BC | All ages

Saturday, June 6
Math & Science Exploration
10-10:30 a.m. | Lingo Story Room | Ages 5-10
 Superhero Training Tip of the Week
This week's tip is from Chris Omni of MAKIN' MOVES.  Makin' Moves offers free, fun, family-friendly fitness opportunities throughout Topeka.
"It's a boy!  It's a girl!  No…..it's a Superhelper!!!  Superhelpers can improve the health of our community one family at a time.   This Superhelper is super strong because of taking the trash out, lifting canned goods, and other common household chores.  Not only is this Superhelper super strong, he/she is super fast!  Moving around the house,  running in the backyard, and walking with their families are all simple ways to get super fast.
A Superhelper has a sneaky enemy named Lazy Larry!  Larry likes to convince Superhelpers that it's OK to sit and watch TV, to play video games all day, and to not be active!  But, all good Superhelpers have a special power that can defeat this evil enemy……FAMILY!
The Superhelper's power is doubled for every member of the family they recruit to be active…… even the dog.  Live to fight another day as Superhelper and start MAKIN' MOVES! "
Featured Digital Item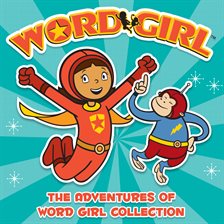 Log in to Hoopla for the audiobook adventure of super-heroine
WordGirl
!  WordGirl and her monkey sidekick, Captain Huggy Face, defeat the bad guys with their vocabulary prowess and superhero strength.  If you haven't used Hoopla before, you'll need to take a minute to create an account, then you're good to go for 15 check-outs a month.  My favorite thing about digital resources?  No late fees.  Ever.  How's that for heroic?
Books to Read
Power up your time tracker with old favorites like Superman and Wonder Woman, as well as new heroes such as Magic Pickle, Kung Pow Chicken, or Traction Man! Find more reading lists and activity ideas on the library's Parents & Kids Pinterest page! Follow Topeka Library's board Parents and Kids on Pinterest.