It seems like I have always loved Egypt especially anything to do with ancient Egypt. Recently I asked myself why, where did this interest come from? I think I know and Elizabeth Peters aka Barbara Mertz is to blame.
I think it started when I read my first Amelia Peabody novel years ago. Crocodile on the Sandbank introduces Amelia Peabody, 32, British, with "enough purpose for two people" and the opinion that she is plain. Mertz writes with a great sense of humor and I often found myself laughing out loud. But I also enjoyed it because it is a grand love story, if a bit melodramatic, and a mystery.
My dream trip would be to follow the path of Amelia's first trip to Egypt.  When she becomes an heiress on the death of her father, she decides to indulge in her wish to travel the world. Since Crocodile on the Sandbank takes place in the late 19th century, there would be a few differences in the experience today. But I'm sure the beauty and mystery of Egypt is timeless.
While in Rome, Amelia acquires a traveling companion, the impoverished gentlewoman Evelyn Barton-Forbes, literally picking her up off the street and they proceed to Cairo. Of course they stay at Shepheard's, the leading hotel of the time and famed for its luxury and opulence, and its many notable guests. The original hotel burned down in 1952 but has been rebuilt and is still in business today, although the website advises that it is closing soon for yet another renovation. Today there are many choices for every budget.
Cairo today is a modern, metropolis that has managed to preserve the ancient sections that form so much of Egypt's fascinating history. One of the many highlights of the city is the Egyptian Museum. 
More than a century old, it contains the most extensive collection of ancient Egyptian antiquities anywhere. This is also where Amelia first encounters her future husband, the handsome and irascible archaeologist Radcliffe Emerson. He calls her "the rampageous British female at her clumsiest and most arrogant." Never one to back down from a fight, she refers to him as "the lordly British male at his loudest and most bad-mannered."
Another stop for Amelia and Evelyn and a must-see is the Pyramids, the world's oldest tourist attraction. If anything symbolizes the grandeur and majesty of the ancient Pharaohs, it would be these gigantic monuments. Although photos and movies depict them as surrounded by desert, the reality is the city has encroached right up to the 12-mile fence enclosing the attraction to make it more secure and visitor friendly.
Amelia develops a fascination for pyramids and finds deep pleasure in visiting the interior of one. Today, only 300 people per day are allowed to go inside the Pyramids. The conditions are surely more comfortable than in Amelia's day, no walking bent over at the waist or crawling in semi-darkness, no bat guano in your hair, but they do recommend you not be claustrophobic or have heart problems to make the trip.
The next part of their journey is made by dahabiya on the Nile. The lavishly furnished houseboat was one of the best and most comfortable ways to travel in 1880. While steamships, cruise ships and other boats made the trip faster and less expensive, you can still travel by dahabiya today.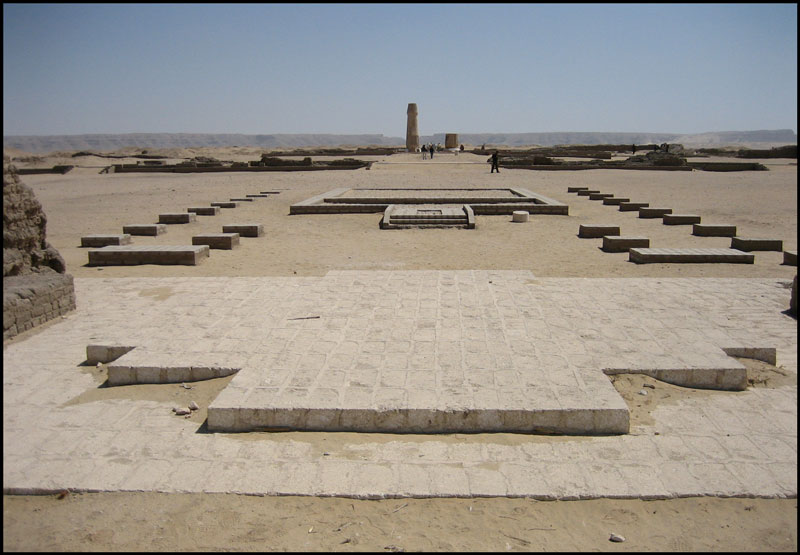 When Amelia reaches Tell-el Amarna (also known as Amarna or El-Amarna) she again meets up with the belligerent Emerson and his brother Walter at their excavation site. Emerson has fallen ill and it's up to the ever-efficient Amelia to take over, which she thoroughly does. Here is where most of the adventure takes place, including a mummy who won't stay in his tomb. Walter and Evelyn become star-crossed lovers, but everything is resolved neatly and Amelia gets the answer to her question, put to Evelyn, of "What's it like?"
Tell el Amarna is the city built by Akhenaton, the so-called heretic pharaoh, when he changed his religion to one god instead of the usual many. He and his queen Nefertiti lived there until his death after which the city was abandoned within four years.  It has been carefully excavated and the details of its internal plan are well preserved.
Barbara Mertz, who has a Ph.D. in Egyptology,  went on to write 18 more Amelia Peabody mysteries and the Emerson family has grown.  She is also a prolific author of many other books and wrote under the name of Barbara Micheals.
Pictures –