Residents of Topeka likely recognize the name Velma Paris. There's a community center named after her in the south part of the city and when she died in 1997, around 3,000 people attended her funeral at the Maner Conference Center. She was full of determination, perseverance and the desire to improve the lives of residents of Shawnee County. Paris lived a life of service, dedicated to helping others. While people can likely associate her name with a building, not as many can say they know her story. Let's get to know the person behind the name on a building.
Born and raised
Paris was born Velma Ruth King in Liberal, Kansas, on Dec 1, 1927 to Walter and Ruth King. She had two brothers, Jean and Loren. Velma graduated from high school as class valedictorian. She then attended Southwestern College in Winfield, Kansas, where she majored in music, received her Bachelor of Arts degree and met her future husband George Paris. Velma married George on Sept 17, 1950 and they moved to Minneapolis, Minnesota. The Paris' moved to New York for George to complete his divinity degree from Union Theological Seminary and then to Knoxville, Tennessee, where George worked at the University of Tennessee. In the 1960s they moved to Topeka, George stopped preaching and began working in other fields including work at the Topeka Public Library (name changed to Topeka and Shawnee County Public Library in 1992). They had five children: Jenith, Kevin, Todd, Melanie and Tim.
Career of service
While in Knoxville, Velma became very active with the League of Women Voters and she started work on an education degree, which she finished at Washburn University after they moved to Topeka. In the early 1970s Paris worked as an elementary teacher at Logan Elementary School and various other public schools in Topeka. She then became the assistant to the director of Shawnee County's Intergovernmental Coordination Council and worked on her Masters in Public Administration from the University of Kansas, which she completed in 1978. Paris decided to become more involved in local government. She ran for and was elected County Commissioner in 1980. This kicked off more than a decade of dedicated service to Shawnee County. Paris was re-elected in 1984 and 1988.
Her son Tim said he believes her biggest legacy to Topeka was that she, "restored the faith in Shawnee County's residents that some people actually run for office for the specific purpose of using the powers of government to help people. She was one of the very few people who could honestly say, with no reservation, that, 'I am from the government and I'm here to help.' She became a champion for people in their fights against special interests. Everyone recognized her determination and effort in fighting the good fight. She stayed local and had no interest in seeking any office that would remove her form direct contact with the people who elected her to serve them."
Lasting legacy
According to an article in the Topeka Capital Journal, while in office, Paris accumulated a reputation for being forthright and highly motivated. She worked under the belief that people depend on the many services that the government offers. and those people shouldn't be negatively impacted for the government to save money. Additionally, Paris strongly believed that government officials should never be satisfied doing the bare minimum of work required by their job. She believed all government officials should set high standards for their work and the easiest way to do that was to aim to do the right thing.
Memorable quote
When asked about a memorable moment involving their mother, several of her children recalled a specific incident. Soon after she was elected in 1980, an inmate escaped from the jail housed in the north wing of the County Courthouse. She arrived at the courthouse around 2 in the morning to see if she could help with anything. Her son Tim said, "the inmate apparently has some outside help to escape and the search had left the building, so-to-speak."
Paris and other officials decided to leave the matter as it was for the moment and Paris began to leave. Journalist Mike Hall of the Topeka Capital Journal asked Velma for a comment on the situation. Tim said "she didn't have much to offer, and she told him as much, but he persisted and wouldn't let her leave without saying something for the record. So, frustrated by his nagging for her to say something, anything, she broke her normal thoughtful and soft-voice character and looked Mike straight in the eye. She said, 'Well Mike, sometimes sh*t happens!' Mike, shocked, responded with 'Velma! You know I can't print that!' Velma finished the conversation by saying, 'That's the plain and simple truth. Sometimes things happen that are beyond our control.'"
Hall shared this particularly memorable story with her family during a ceremony in Velma's honor years later.
Her name lives on
As a result of her declining health, Paris retired from her position in 1993. A few years later the City of Topeka renamed the Shawnee South Community Center after her. Paris was chosen for her numerous civic commitments and involvement with several social service agencies. Moreover, she was the second of three women elected as Shawnee County Commissioner at that time.
Starting in late 1990s, Community Action in Topeka created the Velma Paris Humanitarian Award, which they give to a government official annually to recognize work that reflects the organization's values. Community Action works on changing lives, improving communities and providing hope for people.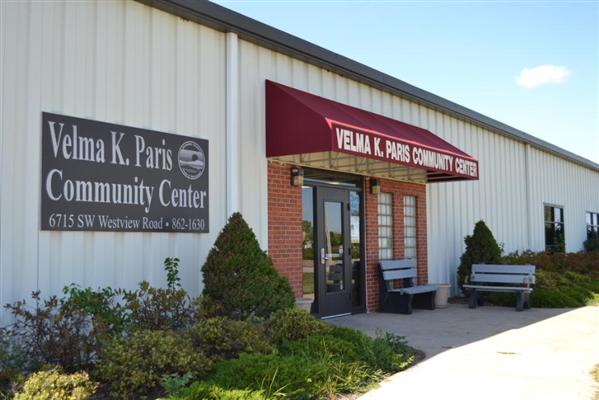 Although Paris died in February of 1997 due to complications from Parkinson's disease, her impact and legacy endure. Paris was seen as an example of a local government official doing what they were elected to do. She worked to improve the lives of those who elected her. The Topeka Capital-Journal wrote on February 27, 1997 that, "if every public official were like Velma Paris, government would be held in higher esteem."
If you are interested in learning more about local people, places, buildings or things, visit the Topeka Room.
Find newspaper articles written about Velma Paris inside the Topeka Room and our online databases. Request the obituary of Velma Paris and other prominent Topekans' obituaries through the library's obituary request service.