Here are some discussion resources for Shoeless Joe by W.P. Kinsella that will help get the conversation going. Shoeless Joe Resources
About the Author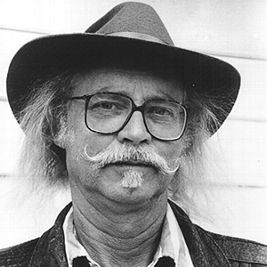 W. P. "Bill" Kinsella was a legendary fiction writer, best known for his award-winning novel Shoeless Joe, which took on a new life as the movie Field of Dreams. The author's inspirational words, which defined the novel and the film—"If you build it, they will come," "Go the distance," and even "Field of dreams"—have taken their place in literature's lexicon of ideas. Find more information on Kinsella.
Where it began: 'Shoeless Joe' by W.P. Kinsella, April 21, 2014
Excerpt of article from ESPN.com
The book came first. Actually, the story came first. I wrote a 20-page short story that eventually became Chapter 1 of my novel "Shoeless Joe." The story was published in an anthology, and a young editor at the publishing house Houghton Mifflin in Boston, Larry Kessenich, read not the story but a review of the anthology in Publishers Weekly. On the strength of that, he wrote to me at Desolate U. in Alberta, where I was teaching bonehead English, to suggest that if the story was part of a novel, he wanted to see it, and if it wasn't, it should be.
I wrote back to say I would need guidance, as I had published four collections of short stories but had never written a publishable novel. We worked well together, and "Shoeless Joe" was just like a baby — it took nine months. I wrote it under the title "The Kidnapping of J.D. Salinger." Houghton Mifflin chose the title "Shoeless Joe," though they considered "Dreamfield." When finished, it was awarded the Houghton Mifflin Literary Fellowship and was published in 1982.
"Shoeless Joe" was optioned by a small independent movie company that kept it in development for two years before the option expired. Paramount Pictures then optioned it and hired Phil Alden Robinson to write the screenplay. Phil was absolutely in love with my book and kept in touch all through the adaptation — though I had no input, nor would I have wanted any. Phil explained that there was no way to fit a 300-page novel into an hour-and-40-minute movie. He explained that marvelous characters like Eddie Scissions had to be cut, and that time had to be telescoped in many sequences.
I replied that to me, writing a novel was akin to a baker baking a loaf of bread: So long as the buyers pay for the bread, they were free to do with it as they chose. If they made dainty sandwiches, fine. If they fed it to their gerbils, fine. I realized that most books optioned for movies became gerbil food. I've never understood authors who are proprietary with their work, fighting any changes of plot or character. All I care about is being properly paid.
Read the rest of Kinsella's pithy article, including remarks about why J.D. Salinger was not in the film. Kinsella also did an interview with Rob Darnell that is a good read.
Review
The New York Times actually has their review of the book from 1982 posted online.  
Quote from the review: "Mr. Kinsella is drunk on complementary elixirs, literature and baseball, and the cocktail he mixes of the two is a lyrical, seductive and altogether winning concoction. It's a love story, really the love his characters have for the game becoming manifest in the trips they make through time and space and ether."

---
Discussion Questions
1)      Why do you suppose Ray isn't the first to see the men on the field? What does it mean that his daughter, Karin, is the first one to notice them?
2)      J.D. Salinger, a reclusive author, has a significant role in this story. Why do you think the author chose Salinger? Could the story have been told with a different author in that place?
3)      How do you feel about Shoeless Joe and the Hall of Fame? Should he be there? Why or why not?
4)      This story was originally not a full novel, but instead a short story. The author was urged by a publisher to turn it into a full novel. Do you think the same story could have been told in a 20-page short story? How would it have been different?
5)      Ray Kinsella heard a voice telling him to build a baseball field. Would you have turned your crop into a field based on a voice? Have you ever followed a feeling or a voice and done something unusual? If so, would you do it again? Is the story trying to teach us something about ourselves?
6)      Baseball was our "national past time," but in more recent years it's been eclipsed by other sports. Why is the Super Bowl so much more of an event where people get together to watch than the World Series? What has changed about our culture and what have we lost as a result?
7)      Shoeless Joe mentions outstanding ball players who never achieve fame or name recognition in the Major Leagues. The character Moonlight Graham says he knew he was outclassed when he played his one game in the majors. Yet, he was one of the players destined to play on Ray's field. Ray's father, who never made it out of the minors, is another. What is the author saying about baseball as a career, versus baseball as a passion? What makes a player great?
8)      If you watched the movie adaptation Field of Dreams what struck you the most about the differences between the film and the book?
9)      How would you sell this book to friend who is not a baseball fan?
---
Further Reading
Say It Ain't So Joe by Donald Gropman
This is a readable, well-researched biography of Shoeless Joe Jackson. The author argues that Jackson had no involvement in the Black Sox scandal of 1919.
The Boys of Summer by Roger Kahn
This is a classic piece of baseball writing. Kahn grew up as a fan of the Brooklyn Dodgers, and, as a young journalist, he traveled with the team in 1952 and 1953. His memoir includes poignant accounts of the lives of the players after their playing days were over.
Eight Men Out by Eliot Asinof
The most comprehensive investigation of the famous scandal, the fixing of the 1919 World Series, covering events from the first meetings between White Sox players and gamblers to the 1921 trial and its aftermath. It makes for a vivid and exciting read.
The Legend of Bagger Vance by Steven Pressfield
This book does for golf what Shoeless Joe did for baseball. It's a novel about golf that also presents golf as a metaphor for life, for which it draws on the religious philosophy of the classic Indian text, the Bhagavad Gita.
The Natural by Bernard Malamud
Some critics say this is the greatest baseball novel ever written. The main character, Roy Hobbs, is a composite of Joe Jackson, Babe Ruth and Eddie Waitkus. Hobbs' bat, Wonderboy, is a refashioning of Jackson's famous bat called Black Betsy

---
Fun Stuff
Buttery Books party guide for The Art of Fielding has a great baseball themed menu with homemade cracker jacks,  NYC style hot dogs and ballpark style pretzels.
For the adventurous baker, the library has a sports ball cake pan that can be used to make a baseball cake.
For those who love fancy coffee drinks, you could add this Shoeless Joe Cold Brew Cocktail to the menu.
The movie Field of Dreams is based on this book so it's a good time to watch or re-watch this film classic. If anyone is up for a road trip, the field they built for the movie is now a popular tourist attraction in Iowa. Because if you build it, they will come.