Well, yes, thank you, I will have another piece of pie. 'Tis the season to be gluttonous, right? If you've been stuffed and fatted like the proverbial holiday goose and need to digest, why not satisfy your appetite with some drool-worthy food documentaries? Pastry, candy, roast goose and even brain balls are on the menu!
Humidity is your enemy. Time is your nemesis. And the details – oh those pesky details! – can make you or break you. Welcome to the prestigious MOF competition in France. Pastry chefs compete in a grueling 3-day event to win the high honor of becoming a Meilleur Ouvrier de France and the right to wear the coveted blue, white and red collar. 
In The Kings of Pastry three aspiring MOFs – Philippe, Regis and Jacquy – prepare for the most important competition of their life. Over the course of three days, they will prepare everything from lollipops to wedding cakes. With the judges looking for breathtaking artistry and sublime taste, every brioche, macaron and intricate sugar flower must be flawless. Hundreds of hours of painstaking practice will come down to talent, persistence, time management and yes, even humidity.  
The toughest coach at Frankford High in Philadelphia isn't screaming at football players, benching the basketball players, or berating the baseball players. Instead, the wiry, loud-mouthed Wilma Stephenson is yelling at her culinary arts students, "You call that a dice?" It's tough love for the culinary students because there is some serious scholarship money at stake if the seniors perform well at the citywide culinary arts competition. 
In Pressure Cooker the filmmakers follow three students: football player Tyree, Fatoumata a recent immigrant from West Africa, and Erica a caretaker for her blind sister. They give up their vacations and holidays to practice, practice, practice under the gimlet-eye of Ms. Stephenson. While we watch them perfecting omelets and practicing tourne techniques, we learn about their lives and dreams of leaving Philadelphia. The coveted culinary scholarships can make that happen. Ms. Stephenson, underneath her prickly exterior, is determined to make her students' dreams a reality.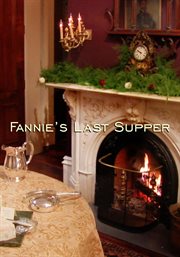 Perhaps mock turtle soup made from a calf's head and garnished with brain balls doesn't sound enticing to you. However, to the Victorians this soup might have been one of 11 courses served at an elaborate holiday meal. Taking inspiration from Fannie Farmer's 1896 Boston Cooking School Cookbook, Chris Kimball, of America's Test Kitchen fame, sets out to "taste the past." He recreates Fannie's recipes at a dinner party with yes, brain balls on the menu. 
Red-faced and perspiring from the wicked heat of the period appropriate cast iron wood stove, Chef Erin and crew prepare stock and calves' feet gelatin (lots of calves' parts in this!). They also sauté lobster tails and roast goose, grill salmon and fry baby artichokes. Meanwhile the pastry chefs painstakingly create multi layered Victorian jellies and an amazing mandarin cake. Fannie's Last Supper is a history lesson, a tribute to the genius of Fannie Farmer, and an entertaining, if not mouthwatering, cooking show all rolled into one.