In Fact or Fiction I recommend a fiction and nonfiction book on the same topic. This month you can choose an imaginative retelling of The Great Gatsby with a murder mystery twist, a gorgeous love letter to The Great Gatsby by an NPR critic or both! Either way you might just want to dust off that iconic blue-covered paperback from high school and reread The Great Gatsby.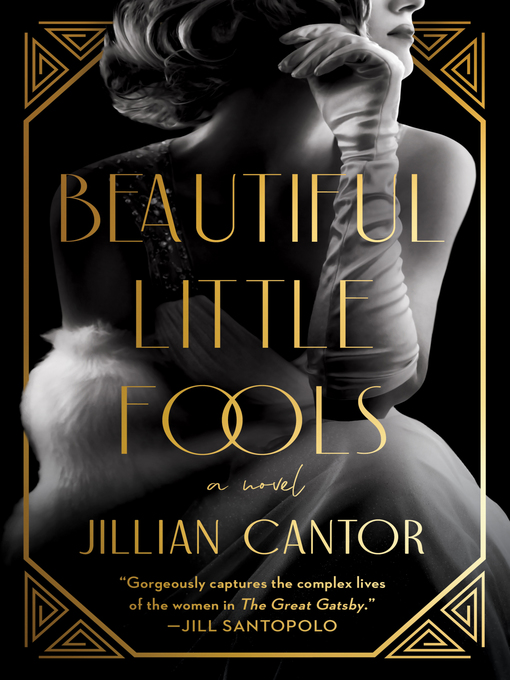 Who really killed Jay Gatsby as he lay floating in his swimming pool under the yellowing leaves? Oh, Fitzgerald would have you believe it was Myrtle's distraught husband. In Jillian Cantor's sympathetic retelling Beautiful Little Fools it's the women who have the motives for murder. These are not the careless, indolent ladies you may remember (but never fear, there's plenty of gin-swilling and debauchery!). The ladies are tender-hearted, vulnerable and are stronger than they know.  
Daisy Buchanan is sick to death of her brutal, adulterous husband Tom. She longs to have a stable home and be a good mother. Cool as a cucumber Jordan Baker keeps secret her passionate love for another woman. And fiery Catherine, Myrtle's sister, just briefly mentioned in The Great Gatsby, is a suffragette and utterly loyal to her victimized sister. When the enigmatic Gatsby cruelly manipulates these women in his obsessive pursuit of his dream, the women realize they are nobody's fool. One of them will make the ultimate act of revenge. 
The party was over for Scott and Zelda. The gin-soaked, fountain-frolicking debauches had ended by the late 1930s with Zelda in a sanatorium and the once-celebrated author a broke and lonely screenplay writer struggling to make it in Hollywood. Laughably small royalty checks confirmed that Fitzgerald's masterpiece, The Great Gatsby, was slipping toward obscurity. But old sports, green lights, and the longing for the American dream never die: Gatsby would rise again. 
Maureen Corrigan, NPR's Fresh Air critic and frequent Big Read lecturer, engagingly shares the story of Gatsby's second life and so much more in her gorgeous love letter to The Great Gatsby, So We Read On: How The Great Gatsby Came to Be and Why It Endures. There could be no better guide through Gatsby-land than Corrigan who unabashedly adores the novel but never overwhelms us with esoteric literary criticism. So We Read On is an immensely readable mélange of F. Scott Fitzgerald's life, his carefully conceived and intricately patterned novel, its critical reception, and her own changing perceptions and experiences with the book. From the iconic dust jacket, to the haunting imagery of the last paragraph, So We Read On is all things Gatsby.