Welcome to storytime!  We are reading The Little Red Hen by Byron Barton.  It is one of my favorite fables. I love to read it over and over. This book reminds me of  the value of working hard and the consequences of laziness. Let's see what the little red hen does in our story!
Teaching Tip
This story encourages children to build social skills like learning to share and cooperate, working together, taking turns, following simple directions and communicating their wants and needs. Teaching your child to use these skills will be important in helping them be successful later in life.
You can use this story and similar tales as reminders to your kids about these skills. After reading you may want to talk a bit about one of the skills. For example, "How did the animals work together?"
More Fun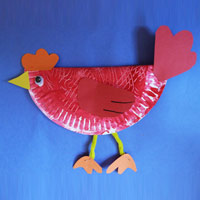 Find coloring pages for the story  at coloring page.net 
You can help your child make a little red hen by folding a paper plate in half and coloring it red. Use paper or card stock to make other parts! Your child can use this chicken to help retell the story!
Time to Rock with the Little Red Hen!
In this version of story – pig, sheep and dog learn what true friendship means!
Hope you enjoyed this Storytime with Miss Joyce and Boomer – see you next time!